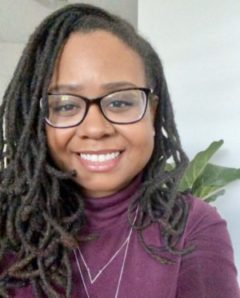 Counselor – Couples Counseling – Lehigh Valley – Easton, PA – Aliya Kenyatta, LSW
Hi! I'm Aliya, and I specialize in helping you create and maintain healthy, fulfilling relationships.  I earned my bachelor's degree in African American Studies from Temple University, and earned my master's degree in Social Work from Marywood University.  I offer both individual counseling and short term couples counseling.  I will empower you to identify and ultimately break out of unhealthy patterns, to improve your overall wellness, and to enhance your relationships.
Individual Counseling:
I do not believe in a "one size fits all" approach. Each person has unique experiences that have shaped their individual worldview. When you are struggling to understand why you feel stuck, stagnant, or frustrated, I will work with you to develop healthy behaviors and strategies to alleviate your current stress. Using a collaborative, empowering approach, I will help you explore your identity, your interpersonal style, and your life experiences. I will assist you with increasing your self-awareness, to build skills that effectively cope with stress and anxiety. I will also help align your behaviors with your goals.
Pricing:
$105 per session (50-55 minutes)
Short Term Couples Counseling:
Merging lives with another individual is no easy feat. And why would it be?After all, it's hard enough to get along with siblings who were raised in the same household as you! Whether you and your partner are already established or just starting out, I will help you improve specific aspects of your relationship. Short Term Couples Counseling assumes a more targeted topic-oriented approach. Topics include: Intimacy, Communication, Premarital Concerns, Breaking up, Incompatibility, and Coparenting. Short Term Couples Counseling is not suitable for couples experiencing and/or recovering from recent infidelity. ​ (Poly friendly!)
Pricing:
$150 per session (50-55 minutes)
I currently only offer a self-pay option. Self pay sessions allow for absolute privacy without having to submit anything to insurance. The frequency of how often you attend sessions, weekly, biweekly, or monthly is entirely in your hands.
Please contact me via email  at aliyashanikenyatta@gmail.com to schedule a 15 minute consultation phone call.
You can also learn more about me via my Instagram Page: @AliyaKenyatta